Texas
Canada is the second largest foreign market for goods produced in Texas, accounting for eight percent of the Lone Star state's total exports.
Top goods exports:
Petroleum, coal, oil and gas: $6 billion
Scrap, chemicals and plastics: $3.3 billion
Aerospace: $2 billion
Top services exports:
Business and professional: $1.2 billion
Technology and equipment: $674 million
Transportation and travel: $588 million
Partners in Energy, Technology
Trade ties are particularly close in the highly integrated energy sector, where billions of dollars' worth of oil and gas, petroleum products, equipment and services flow back and forth across the border. Canadian crude is delivered to Texas for refining, and then gasoline and dozens of chemicals and other petroleum products are shipped back to customers in Canada. Energy producers, equipment makers and service companies from both countries operate extensively in Texas and Canada. Several Canadian-owned companies are vital partners in Texas' energy economy, including Enbridge, TC Energy, Chemtrade and Enerflex Energy Systems.
These and other Canadian businesses directly employ more than 56,000 Texans. Among other significant Canadian employers in the state are: Saputo (dairy), TD Securities (financial services), Bombardier (aerospace), CAE (pilot training) and Stantec (engineering).
Beyond energy, Canada is a top foreign market for a range of Texas-made goods and services, including trucks and tractor-trailers (worth $704 million in 2020). Canadians also buy virtually all of the state's exported fruits and vegetables, including raspberries ($113 million), avocados ($92 million) and tomatoes ($62 million).
What supporters are saying
"The USMCA is essential to the future of Texas, America and our North American allies. It fosters stronger relationships with Mexico and Canada, protects jobs, and provides stability and greater investment opportunities for Texas businesses."

Governor Greg Abbott (R-TX), October 5, 2019
"Texans know firsthand the importance of international trade, especially with Mexico and Canada. That's because no state in the union has more invested in trade with our neighbors than the Lone Star State. As a fierce competitor on the international stage, Texas is home to more than 2.2 million jobs dependent on trade."

Senator Ted Cruz (R-TX), January 29, 2019
"It is our hope that the USMCA/CUSMA, like NAFTA, will continue to be a basis for prosperous cross-border trade between the United States and Canada."

Doug McCullough, Director of the Canada-Texas Chamber of Commerce, December 23, 2019
Spotlight on Canadian business
Pipelines, wind farms and oil terminals
Calgary Alberta-based Enbridge is a major player in Texas' energy sector. It employs more than 1,440 people at more than a dozen sites in the state, including at its onshore and offshore natural gas and liquids pipelines, gas processing facilities, wind farms and oil terminals. In 2020 alone, the company spent $445 million on salaries and other operating expenditures in the state plus another $255 million in capital expenditures. Enbridge also paid $38 million in taxes in the state and donated more than $1 million to local charities and community initiatives.
Keeping gas flowing during the 2020 deep freeze
TC Energy's natural gas pipelines shipped record volumes of natural gas to Texas and other U.S. states during the 2020 deep freeze, helping customers cope with widespread power outages. And unlike many other operators, TC Energy kept gas flowing despite the unprecedented cold snap across the U.S. South. TC Energy, based in Calgary, AB, operates more than 500 miles of natural gas and liquids pipelines in the state, including the ANR natural gas pipeline and the Keystone liquids pipeline, along with compressors and pumping stations. The company has 1,465 employees in Texas and pays $138 million in salaries and nearly $20 million in property taxes every year. In 2018, Houston's Bank of America Center, the iconic Houston landmark designed by architects Philip Johnson and John Burgee, was renamed the TC Energy Center and reflects the company's growing presence in the U.S. energy industry.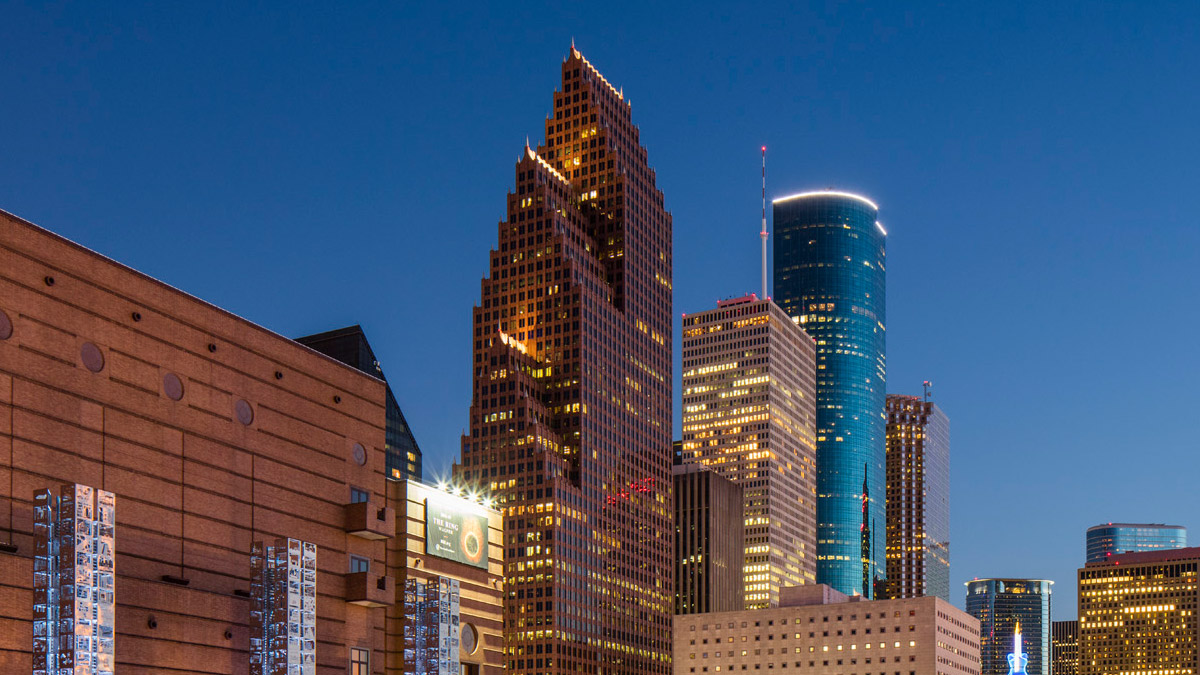 Share our story
Notes:
Export data provided by Trade Partnership Group based on government sources for 2020
All figures are in U.S. dollars
Jobs supported refers to employment in the state that is tied to Canadian trade and investment
Top goods exports:
Petroleum, coal, oil and gas: $6 billion
Scrap, chemicals and plastics: $3.3 billion
Aerospace: $2 billion
Top services exports:
Business and professional: $1.2 billion
Technology and equipment: $674 million
Transportation and travel: $588 million